3rd grade "Freshman" Youth Group!
Once each month we will get together for a variety of social activities in our youth lounge. This will be a great opportunity to have fun and make new friends.
Juniors – Fourth & Fifth Grades
Fourth & Fifth graders meet twice a month in the Youth Group lounge immediately following Hebrew school. We always begin our meetings with a meal followed by a fun activity such as Game Night, Folleyball (volleyball with a beach ball!), and Movie Night, just to name a few! The Juniors also have a Chocolate Seder to celebrate Passover (a favorite for many) as well as a Chanukah party with dreidls and a grab bag.
Inters – Sixth, Seventh & Eighth Grades / NFTY 678
Sixth, Seventh & Eighth grades meet at the temple while other times we have our activities outside of the building at places such as the bowling alley or ice rink. TBD Sixth, Seventh & Eighth Graders are now a part of NFTY 678, a program of the Reform Movement's Youth Department, for sixth & seventh graders from several local congregations. They have enjoyed hibachi lunch together and joining for outdoor adventures.
Seniors – Teen Leadership Corp – Grades 9 – 12
Ninth to twelfth grades have a wide range of programs and opportunities through our Congregation.
Introducing our "Teen Leadership Corp" for Grades 9 – 12. Students will have a chance to become leaders for youth groups and at temple events. Community Service hours will be offered. The teens will also plan their own social activities with TBD friends and other students from our region through NFTY.
Many students serve as Student Aides in the Religious School, assisting in the school office, tutoring younger students and helping in primary grade classrooms.
These grades are also a part of our Community Hebrew High School [CHHS]with Temple Beth El of Huntington. CHHS meets on Monday evenings. It has an annual weekend conclave in the fall.
Our students participate in Reform Movement's Summer Camps!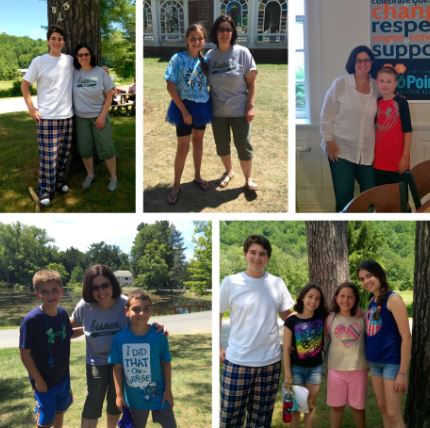 Pictured here with Rabbi Klafter at URJ Eisner Camp in Great Barrington, MA,
and at URJ 6 Points Sci Tech in Byfield, MA.