Welcome to Temple Beth David's Live Streams!

Please note, we have different types of Live Steams for Friday Night and Saturday Bar/Bat Mitzvah services.  You can get information and access for both below.
Friday Night Shabbat Services on Zoom and Live Stream
Our Shabbat service will be on Zoom https://zoom.us/s/9224914570.  Note, our Zoom's are password protected and does not change.  If you do not have the password, it can be found in the Temple Megillah sent via email in the early afternoon each Friday or check with the temple office.  You can also view via the Live Stream below.
Bar/Bat Mitzvah Saturday Services
Our B'nai Mitzvah services are password protected and only available in the Live Stream box below. 
Click on the box, enter password, press Unlock.  More detailed instructions are further down the page.
Temple Beth David Live Stream
Additional Bar/Bat Mitzvah Service Stream Instructions:
Join the service
  →Click on the box/link above
  →Password box will appear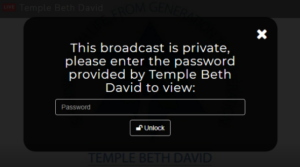 →Enter Password
  →Click Unlock

Make the Video Larger
When you are logged in, you will be able to make the video full screen by pressing the two arrows.



Trouble Getting in?
If you have trouble getting in, try refreshing the page.
Upcoming Shabbat Services YouTubes links: