Shabbat Services on Zoom

M

arch 5th and 12th
For the time being, we are holding our Shabbat services on our Zoom https://zoom.us/s/9224914570.  Check back for updates. 
Note, our Zoom's are password protected and does not change.  If you do not have the password, it can be found in the Temple Megillah set via email in the early afternoon each Friday.

A note from our President, Craig Cooper:
As we near the end of 2020, it's an understatement that we all look forward to a better year in 2021. This said, our temple community has made it through this challenging year by being there for each other, and for ourselves as well.
I'm writing to share the current plan for Friday evening Shabbat services as we begin 2021. I'm proud to say it is the unanimous result of the sacred partnership among Temple Beth David's leadership and our clergy. Together we've watched the increasing number of COVID-19 cases – locally and nationally – and have weighed our shared desire to worship and gather in person against our greater responsibility to do so in a safe and thoughtful manner.
Beginning on Friday evening, January 1, 2021 we will return to the Zoom platform for our services and temporarily discontinue the live stream broadcast from our sanctuary. It is our hope to resume services in the sanctuary during February, in anticipation of the spring season of B'nai Mitzvah celebrations which begin in March.
We know this may be a disappointment to some, in particular those who will observe the Yartzeit of a loved one during this time. The names of loved ones will be included in our Zoom Shabbat services. In addition, we will extend the opportunity for any temple member (and immediate household) to have private moments of prayer in the Temple Sanctuary during the week of Yartzeit. This visit must be scheduled in advance through the temple office and you will be required to observe TBD's COVID protocols – including the completion of our online waiver, signing in at the parking lot entrance and wearing a mask at all times in the temple. Please contact Wendy Perry at Wendy@tbdcommack.org to arrange a private visit to the sanctuary.
As we welcome a new secular year, please know that the leadership and Clergy of Temple Beth David continues its commitment to our entire temple community. We will do all we can to keep us connected, and we remain dedicated to the safe return to our spiritual home, and open to your comments and concerns at any time.
We are so happy to share this look at our congregation. Though separated by physical distance in recent months, we remain spiritually connected. The essence of the 'TBD Family' remains strong and vibrant!

Join us! Contact me, Rabbi Klafter, for information about our congregation and our High Holiday Celebrations (RabbiBHK@tbdcommack.org) and contact Dr. Margie Gursky (MGursky@tbdcommack.org) about our Religious School for students beginning in Kindergarten and thru the Grades.

Wishing all a healthy, New Year for 2021!

Enjoy the Festival of Lights with
Temple Beth David
Celebrating Hanukkah
Light your candles with us Friday 12/11 during services at 8:00PM
Saturday 12-/12 – Thursday 12/17 at 6:30 PM on our Temple Zoom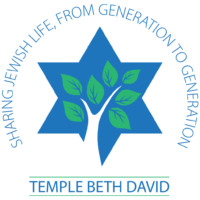 Rabbi Halpern sings the Hanukkah Blessings
Temple Beth David is a welcoming Reform community where families have made their Jewish home for generations. From our earliest days to the present, we have grown from a small group of families to a vibrant congregation 400 families strong. We strive to create a Jewish environment that meets the needs of all our families, offering opportunities to grow with us, to learn with us and to share in our tradition.  We treasure the spirit of closeness on which Temple Beth David was founded and on which our congregation continues to thrive.
Temple Beth David is a Reform congregation founded more than 50 years ago. In 1961, a small group of Jewish…
We are a Reform congregation and a member of the Union for Reform Judaism, the largest Movement of Jews in…
Temple Beth David is built upon three cornerstones: WE ARE A SACRED COMMUNITY בְּצֶלֶם אֱלהִים בָּרָה אתוֹ B'Tzelem Elohim bara…