Shabbat Services on Zoom
For the time being, we are holding our Shabbat services on our Zoom https://zoom.us/s/9224914570.  Check back for updates. 
Note, our Zoom's are password protected and does not change.  If you do not have the password, it can be found in the Temple Megillah set via email in the early afternoon each Friday.

We are so happy to share this look at our congregation. Though separated by physical distance in recent months, we remain spiritually connected. The essence of the 'TBD Family' remains strong and vibrant!

Join us! Contact me, Rabbi Klafter, for information about our congregation and our High Holiday Celebrations (RabbiBHK@tbdcommack.org) and contact Dr. Margie Gursky (MGursky@tbdcommack.org) about our Religious School for students beginning in Kindergarten and thru the Grades.

Wishing all a healthy, New Year for 2021!

Enjoy the Festival of Lights with
Temple Beth David
Celebrating Hanukkah
Light your candles with us Friday 12/11 during services at 8:00PM
Saturday 12-/12 – Thursday 12/17 at 6:30 PM on our Temple Zoom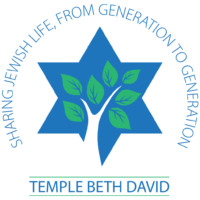 Rabbi Halpern sings the Hanukkah Blessings
Temple Beth David is a welcoming Reform community where families have made their Jewish home for generations. From our earliest days to the present, we have grown from a small group of families to a vibrant congregation 400 families strong. We strive to create a Jewish environment that meets the needs of all our families, offering opportunities to grow with us, to learn with us and to share in our tradition.  We treasure the spirit of closeness on which Temple Beth David was founded and on which our congregation continues to thrive.
Temple Beth David is a Reform congregation founded more than 50 years ago. In 1961, a small group of Jewish…
We are a Reform congregation and a member of the Union for Reform Judaism, the largest Movement of Jews in…
Temple Beth David is built upon three cornerstones: WE ARE A SACRED COMMUNITY בְּצֶלֶם אֱלהִים בָּרָה אתוֹ B'Tzelem Elohim bara…