We are so happy to share this look at our congregation. Though separated by physical distance in recent months, we remain spiritually connected. The essence of the 'TBD Family' remains strong and vibrant!
Join us! Contact me, Rabbi Klafter, for information about our congregation and our High Holiday Celebrations (RabbiBHK@tbdcommack.org) and contact Dr. Margie Gursky (MGursky@tbdcommack.org) about our Religious School for students beginning in Kindergarten and thru the Grades.
Shana Tova – Wishing all a healthy, sweet new year of blessings!

Let Your Home Become a Sanctuary
Celebrating the High Holidays
with Temple Beth David
5781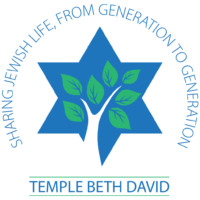 Like the NEW Year itself, this year's High Holiday Season will be NEW and innovative, as we seek to maintain the well-being and safety of everyone in our Temple family. Worship Services on Rosh HaShana and Yom Kippur led by Rabbi Klafter and Cantor Halpern from the Temple Sanctuary will be Live Streamed to you. We encourage you to "Let Your Home Become a Sanctuary," preparing a special place especially for participating in our Services.
Detailed instructions about how to access the Services and other offerings will be provided prior to the Holidays. If you have any questions or concerns about the technology, please contact Robin Kain in the Temple Office (Robin@tbdcommack.org or 631.499.0915 x 310). Someone can assist you in advance of the Holiday season.

Schedule of Services & High Holiday Gatherings
Selichot (Live Stream): Saturday evening, 8:30 am, September 12th
Erev Rosh HaShana Service (Live Stream): Friday, September 18th @ 7:30 pm
First Day of Rosh HaShana: Saturday, September 19th
10:00 am         Morning Services (Live Stream)
11:30 am         Torah Learning & Discussion with Rabbi Klafter & Cantor Halpern (Zoom)
1:00 pm           Family Service & Celebration (Live Stream)
3:00 pm           Tashlich (outdoor, in-person with social distancing) Raindate Sunday @ Various times
Second Day of Rosh HaShana: Sunday, September 20th
10:00 am         Morning Services (Live Stream)
3:00 pm           Raindate from Saturday: Tashlich (outdoor, in-person with social distancing)
Kol Nidre (Live Stream): Sunday, September 27th @ 7:30 pm
Yom Kippur: Monday, September 28th
10:00 am         Morning Services (Live Stream)
11:30 am         Yom Kippur Reflections & Renewal with Rabbi Klafter & Cantor Halpern (Zoom)
1:00 pm           Family Service & Celebration (Live Stream)
During Yom Kippur afternoon Learning and Discussion options (Zoom; times and details to follow)
5:00  pm          Afternoon, Yizkor* and Neilah Services (Live Stream)(*There will be no separate Community Yizkor Service this year. All are welcome to join us this year at one service to be led by Rabbi Klafter and Cantor Halpern.)
TBD Sanctuary
We know that the Sanctuary in our physical building is a place of great sanctity and meaning for you. Though we cannot be there together during High Holiday worship this year, we will provide opportunities for individual members and families to spend a short time in the Sanctuary during this season. These visits will be prearranged on a reservation basis to ensure the safety of everyone. Watch for more information.
Guests of TBD
In previous years Guest Tickets for High Holiday Services were available for purchase for $150 per adult for the congregant's immediate family members. Given the nature of our celebrations and our worship, we are able to welcome guests and family members to attend this year's Live Stream Services and other online offerings. In lieu of purchasing tickets this year, we encourage our guests to make as generous a donation as possible to help support us at this unique High Holiday Season.
Donations for Guests of TBD for High Holidays 5781 can be made by credit card on the Temple website (www.tbdcommack.org): "Guests of TBD Donations." Checks payable to Temple Beth David may be sent to the Temple Office. Please call the Temple Office to make a donation with a credit card.
We hope you and your loved ones are healthy and well. Knowing we are eager 
to be physically together in the building and, especially, in our Sanctuary, the Temple Board and our Reopening Committee have been guided by the commitment to ensure the health and safety of everyone in the TBD family.  
Since March when we closed our physical building, we have all seen that the COVID-19 crisis is constantly evolving, making it difficult to safely plan too
far into the future. 
In light of these factors, we have come to the difficult decision that it is not possible to plan to assemble in person in the Sanctuary for Rosh HaShana
and Yom Kippur Services. This decision is shared by Reform congregations across Long Island and around the nation.We have made this decision well in advance to enable the clergy and temple leadership ample time to prepare
a wide variety of ways to welcome 5781. 
As a temple family, we share your sadness at the prospect of missing familiar TBD traditions. While we can't know with certainty what the state of our region will be on Erev Rosh Hashana, we do know with certainty that we will celebrate the season with spirit, with joy and with our community.
Our theme for the season is "Let Your Home Become a Sanctuary," reflecting 
the message in the Book of Exodus, "V'asu Li Mikdash," teaching us to build a sanctuary, a sacred space, wherever we are. This year we will enable you to
bring the sanctity of TBD and the High Holidays into your home with offerings beginning weeks before the holidays begin. Watch for much more information.
Rabbi Klafter and Cantor Halpern will conduct Rosh HaShana and Yom Kippur services, including Family services, alone in the Sanctuary. These will be Live Streamed in real time. Our worship experience will include some prerecorded sections, including musical pieces and the sounding of the Shofar. Services will be a blend of what has always made the Holidays special at TBD with some new portions and styles. 
In order to celebrate with us, you will need access to email and the internet. If you are currently unable to do so, your temple family is here to help. Please contact Robin Kain (Robin@TBDCommack.org or 631.499.0915 x 310) by
August 14th. You will then be contacted personally by a member of the temple
to assist you with the technology as best we can.
This High Holiday season "Let Your Home Become a Sanctuary," as we rejoice and renew ourselves connected in spirit one to another.
Rabbi Beth H Klafter
Rabbi/Cantor Audrey B Halpern
Craig Cooper, President
Beverly Wolcott, Executive VP
David Gaines, First VP
Lisa Wilks-Gallo, MD, Second VP
TBD CONNECTS
Though we may be socially distant, our TBD Family remains spiritually close.
We have planned various opportunities to connect with one another, from conversations to fun activities, for adults, families and children of all ages. It is our intention to follow a similar calendar weekly with some new activities each week and adjustments in schedules and offerings if needed.
All of these connections will be held on Zoom.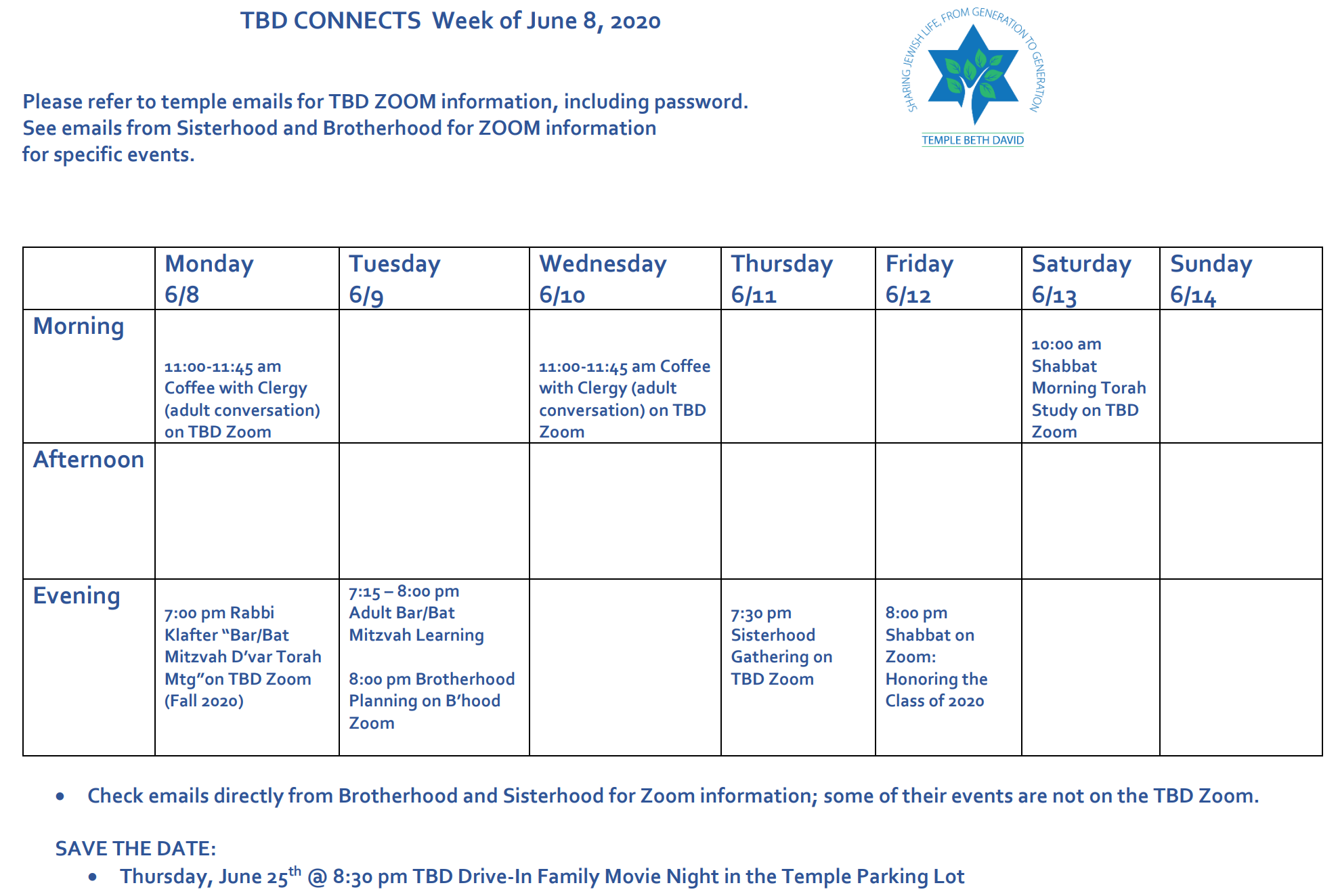 Temple Beth David is a welcoming Reform community where families have made their Jewish home for generations. From our earliest days to the present, we have grown from a small group of families to a vibrant congregation 400 families strong. We strive to create a Jewish environment that meets the needs of all our families, offering opportunities to grow with us, to learn with us and to share in our tradition.  We treasure the spirit of closeness on which Temple Beth David was founded and on which our congregation continues to thrive.
ROSH HASHANAH

 

Friday, September 18th

Erev Rosh Hashanah –

 

7:30 PM

 
 

Saturday, September 19th

Rosh Hashanah Day –

 

9:00 AM  A–K

 

12:00 Noon  L–Z

 
3:00 PM Children's Service (open to
   the entire community)
 

4:15 PM Tashlich

 
 

Sunday, September 20th

2nd Day Rosh Hashanah –

 

10:00 AM

 

 

 

 

Grandparent Shabbat




Friday, September 25th

Shabbat Service

 

7:30 PM

 

 

Yom Kippur




Sunday, September 27th

Kol Nidre Service

 

7:30 PM

 

 

Monday, September 28th

Yom Kippur Day –

 

9:00 AM L–Z

 

11:30 AM A–K

 
2:15 PM Children's Service (open to
   community)
 

2:30 PM Discussion Group

 
3:30 PM Community Memorial
   Service (open to all)
 
4:15 PM Memorial & Concluding
   Service
 

 

 

 

Sukkot

 

Friday, October 2nd

Sukkot Service

 

7:00 PM

 

 

 

 

Simchat Torah

 

Friday, October 9th

Yizkor Service

 

6:30 PM

 

Consecration/Simchat Torah Service

 

7:00 PM
Temple Beth David is a Reform congregation founded more than 50 years ago. In 1961, a small group of Jewish…
We are a Reform congregation and a member of the Union for Reform Judaism, the largest Movement of Jews in…
Temple Beth David is built upon three cornerstones: WE ARE A SACRED COMMUNITY בְּצֶלֶם אֱלהִים בָּרָה אתוֹ B'Tzelem Elohim bara…