SUMMER TBD UPDATE
Message from Craig Cooper, Temple President

  I'm sure for most of us, it's always been a natural gesture to finish an email or a phone call with words like, "Take care" or "Be well."  Over the past several months, I've often found myself using the words "Stay safe" instead.  Before the COVID-19 pandemic, encouraging someone to stay safe would have been an odd expression. Safe from whom? Safe from what? The sad truth is, now we know.
  None of us could have imagined a time when we would be forced to close our temple's physical building in order to protect our members, our children, staff and guests from a frightening disease. And in the months that have passed, jobs have been lost, businesses have suffered, nest eggs have vanished and our society has ricocheted from one crisis to another. In the midst of the pandemic, our temple family has endured the loss of parents, family members, friends and coworkers, often without a chance to say goodbye or observe shiva. We have been relieved to hear from members who contracted the illness, and are in different stages of recovery.  

  And perhaps "different stages of recovery" is a fitting metaphor to describe Temple Beth David today. At first glance, those words feel depressing – as if we are all recovering from the same illness or a terrible storm. But I'd like to think the remarkable work that has taken place since our March closing demonstrates the creativity, flexibility and strength of our congregational family.  In true summertime spirit, our temple members, our Religious School, our wonderful clergy and our dedicated staff have become the epitome of a familiar phrase: 
-Keep on reading!
TBD CONNECTS
Though we may be socially distant, our TBD Family remains spiritually close.
We have planned various opportunities to connect with one another, from conversations to fun activities, for adults, families and children of all ages. It is our intention to follow a similar calendar weekly with some new activities each week and adjustments in schedules and offerings if needed.
All of these connections will be held on Zoom.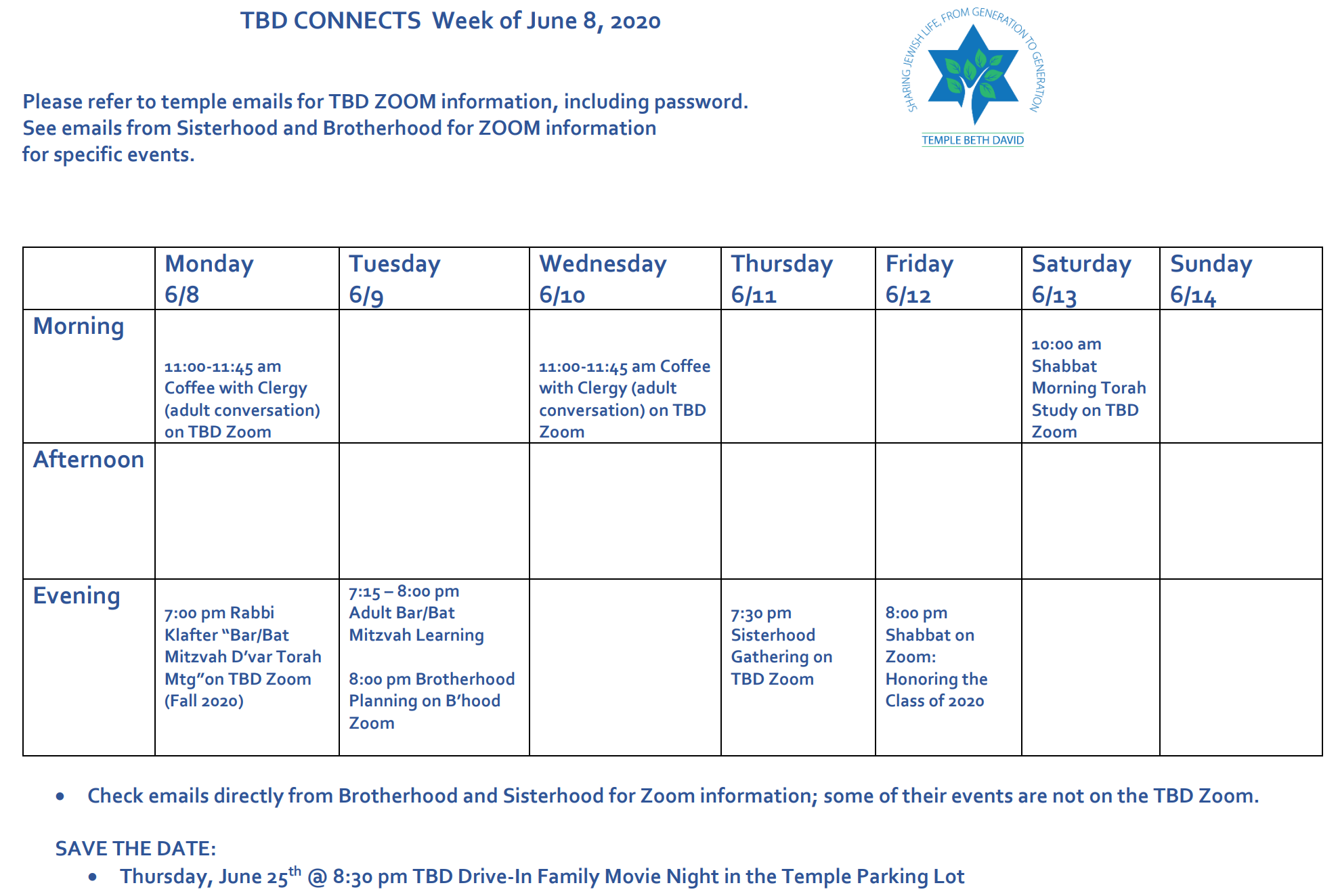 TBD Religious School Video-Yearbook 2019-2020
Temple Beth David - Words & Melodies of Healing from Rabbi Kalfter and Cantor Halpern
Temple Beth David is a welcoming Reform community where families have made their Jewish home for generations. From our earliest days to the present, we have grown from a small group of families to a vibrant congregation 400 families strong. We strive to create a Jewish environment that meets the needs of all our families, offering opportunities to grow with us, to learn with us and to share in our tradition.  We treasure the spirit of closeness on which Temple Beth David was founded and on which our congregation continues to thrive.
ROSH HASHANAH

 

Friday, September 18th

Erev Rosh Hashanah –

 

7:30 PM

 
 

Saturday, September 19th

Rosh Hashanah Day –

 

9:00 AM  A–K

 

12:00 Noon  L–Z

 
3:00 PM Children's Service (open to
   the entire community)
 

4:15 PM Tashlich

 
 

Sunday, September 20th

2nd Day Rosh Hashanah –

 

10:00 AM

 

 

 

 

Grandparent Shabbat




Friday, September 25th

Shabbat Service

 

7:30 PM

 

 

Yom Kippur




Sunday, September 27th

Kol Nidre Service

 

7:30 PM

 

 

Monday, September 28th

Yom Kippur Day –

 

9:00 AM L–Z

 

11:30 AM A–K

 
2:15 PM Children's Service (open to
   community)
 

2:30 PM Discussion Group

 
3:30 PM Community Memorial
   Service (open to all)
 
4:15 PM Memorial & Concluding
   Service
 

 

 

 

Sukkot

 

Friday, October 2nd

Sukkot Service

 

7:00 PM

 

 

 

 

Simchat Torah

 

Friday, October 9th

Yizkor Service

 

6:30 PM

 

Consecration/Simchat Torah Service

 

7:00 PM
Temple Beth David is a Reform congregation founded more than 50 years ago. In 1961, a small group of Jewish…
We are a Reform congregation and a member of the Union for Reform Judaism, the largest Movement of Jews in…
Temple Beth David is built upon three cornerstones: WE ARE A SACRED COMMUNITY בְּצֶלֶם אֱלהִים בָּרָה אתוֹ B'Tzelem Elohim bara…