Shabbat Services on Zoom
Please note the TBD Zoom is for temple members and requires a passcode. Please see the Weekly Megillah for the Zoom passcode.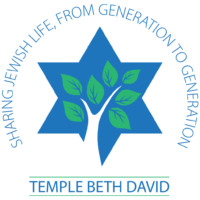 Temple Beth David is a welcoming Reform community where families have made their Jewish home for generations. From our earliest days to the present, we have grown from a small group of families to a vibrant congregation 400 families strong. We strive to create a Jewish environment that meets the needs of all our families, offering opportunities to grow with us, to learn with us and to share in our tradition.  We treasure the spirit of closeness on which Temple Beth David was founded and on which our congregation continues to thrive.
Temple Beth David is a Reform congregation founded more than 50 years ago. In 1961, a small group of Jewish…
We are a Reform congregation and a member of the Union for Reform Judaism, the largest Movement of Jews in…
Temple Beth David is built upon three cornerstones: WE ARE A SACRED COMMUNITY בְּצֶלֶם אֱלהִים בָּרָה אתוֹ B'Tzelem Elohim bara…