TBD CONNECTS  (zoom.us/j/9224914570)
Though we may be socially distant, our TBD Family remains spiritually close.
We have planned various opportunities to connect with one another, from conversations to fun activities, for adults, families and children of all ages. It is our intention to follow a similar calendar weekly with some new activities each week and adjustments in schedules and offerings if needed.
All of these connections will be held on Zoom.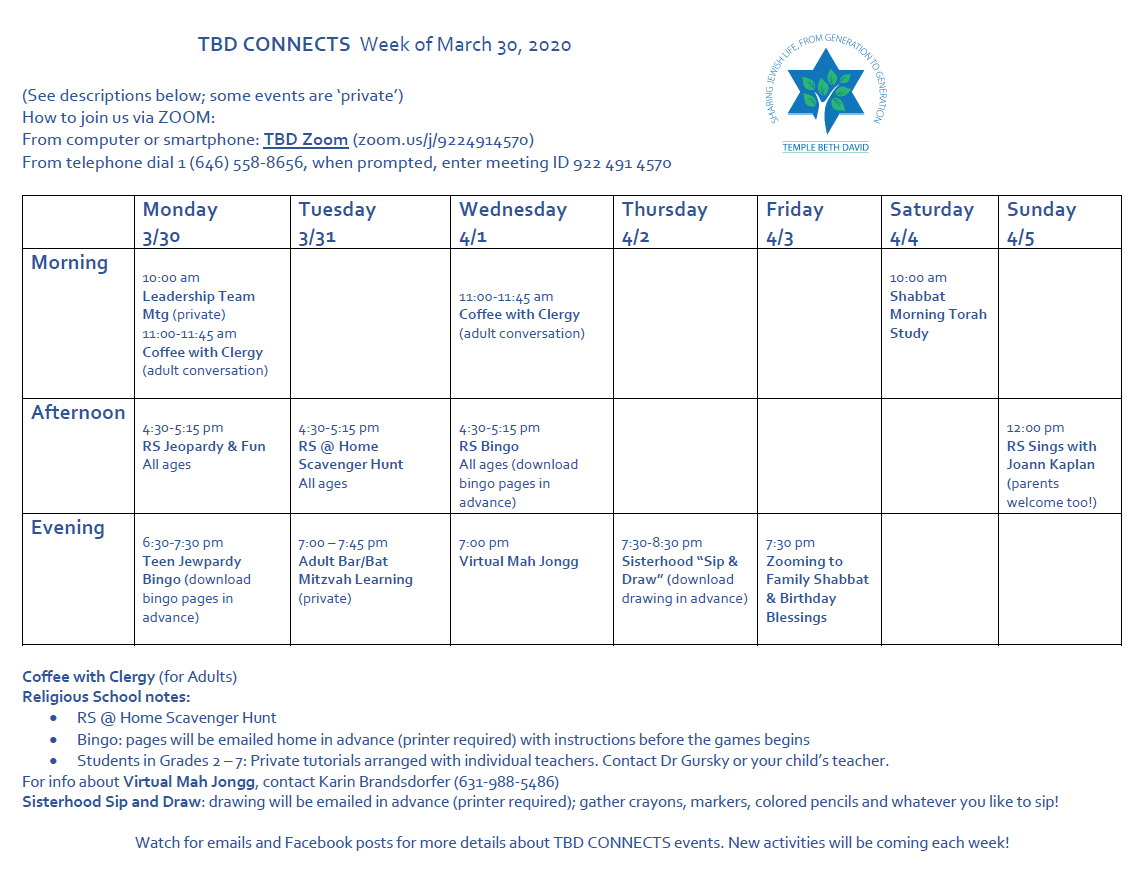 Temple Beth David is a welcoming Reform community where families have made their Jewish home for generations. From our earliest days to the present, we have grown from a small group of families to a vibrant congregation 400 families strong. We strive to create a Jewish environment that meets the needs of all our families, offering opportunities to grow with us, to learn with us and to share in our tradition.  We treasure the spirit of closeness on which Temple Beth David was founded and on which our congregation continues to thrive.
ROSH HASHANAH

 

Sunday, September 29th

Erev Rosh Hashanah –

 

7:30 PM

 
 

Monday, September 30th

Rosh Hashanah Day –

 

9:00 AM  A–K

 

12:00 Noon  L–Z

 
3:00 PM Children's Service (open to
   the entire community)
 

4:15 PM Tashlich

 
 

Tuesday, October 1st

2nd Day Rosh Hashanah –

 

10:00 AM

 

 

 

 

Grandparent Shabbat




Friday, October 4th

Shabbat Service

 

7:30 PM

 

 

Yom Kippur




Tuesday, October 8th

Kol Nidre Service

 

7:30 PM

 

 

Wednesday, October 9th

Yom Kippur Day –

 

9:00 AM L–Z

 

11:30 AM A–K

 
2:15 PM Children's Service (open to
   community)
 

2:30 PM Discussion Group

 
3:30 PM Community Memorial
   Service (open to all)
 
4:15 PM Memorial & Concluding
   Service
 

 

 

 

Sukkot

 

Sunday, October 13th

Sukkot Service

 

7:00 PM

 

 

 

 

Simchat Torah

 

Sunday, October 20th

Yizkor Service

 

6:30 PM

 

Consecration/Simchat Torah Service

 

7:00 PM
Temple Beth David is a Reform congregation founded more than 50 years ago. In 1961, a small group of Jewish…
We are a Reform congregation and a member of the Union for Reform Judaism, the largest Movement of Jews in…
Temple Beth David is built upon three cornerstones: WE ARE A SACRED COMMUNITY בְּצֶלֶם אֱלהִים בָּרָה אתוֹ B'Tzelem Elohim bara…